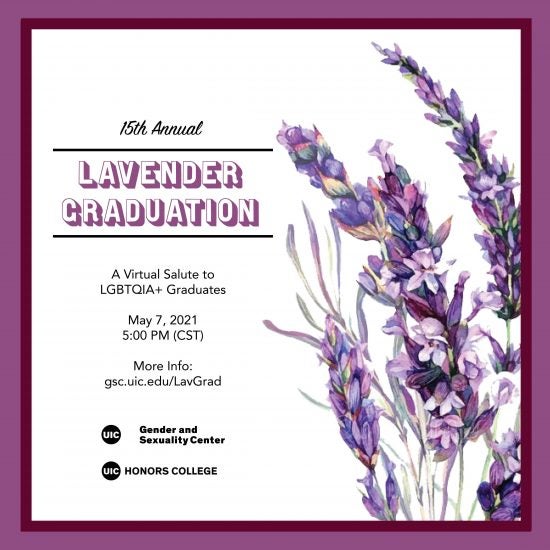 What Is Lavender Graduation?
Lavender Graduation is a celebration of the academic and personal achievements of Lesbian, Gay, Bisexual, Transgender, Queer, Intersex, Asexual + (LGBTQIA+) graduating students and their supportive communities. The event is open to all graduating students from every college at UIC. Lavender Graduation supports the attraction, retention, and successful graduation of many LGBTQIA+ students each year. Follow our Lavender Graduation Facebook page for information on our upcoming graduation!
Lavender Graduation Facebook
Information
2021 Goes Virtual

Because of COVID, the GSC's 2021 Lavender Graduation was held virtually via Zoom. This allowed us to come together as a community to support our graduates during these times. We will be posting a few highlight videos soon, so be sure to check out our social media for more information!

What to Expect

Lavender Graduation is a fun filled time for not only the graduates, but those who join to support their loved ones. We have a variety of speakers from UIC and in the community, powerful keynote speakers, a DJ to set the mood, and graduates can expect their own certificate and tassel as well!
Janaé Bonsu
Lavender Graduation is important to me because spaces where Queerness resilience is celebrated is of the utmost importance.

2021 Keynote Speaker | PhD in Social Work

|
Ash Stephens
It's always a fun space to celebrate Queer graduates and folks who support us. Also, the outfits are usually really good!

2021 Keynote Speaker | PhD in Criminology, Law and Justice

|