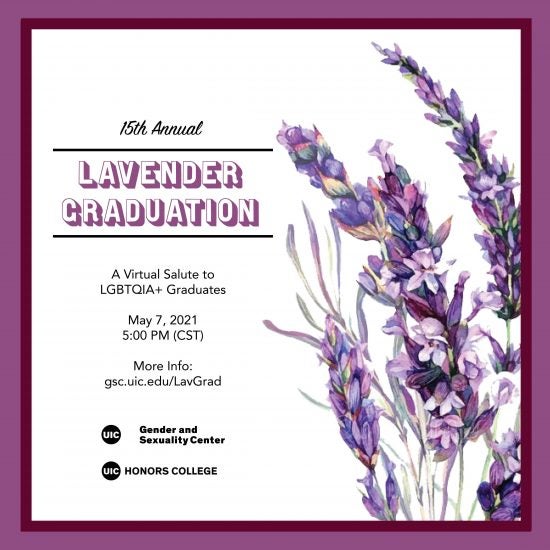 Stay Up To Date
Follow our Lavender Graduation Facebook page for information on our upcoming graduation! You can also see our past posts regarding previous graduations.
Lavender Graduation Facebook
15th Annual Lavender Graduation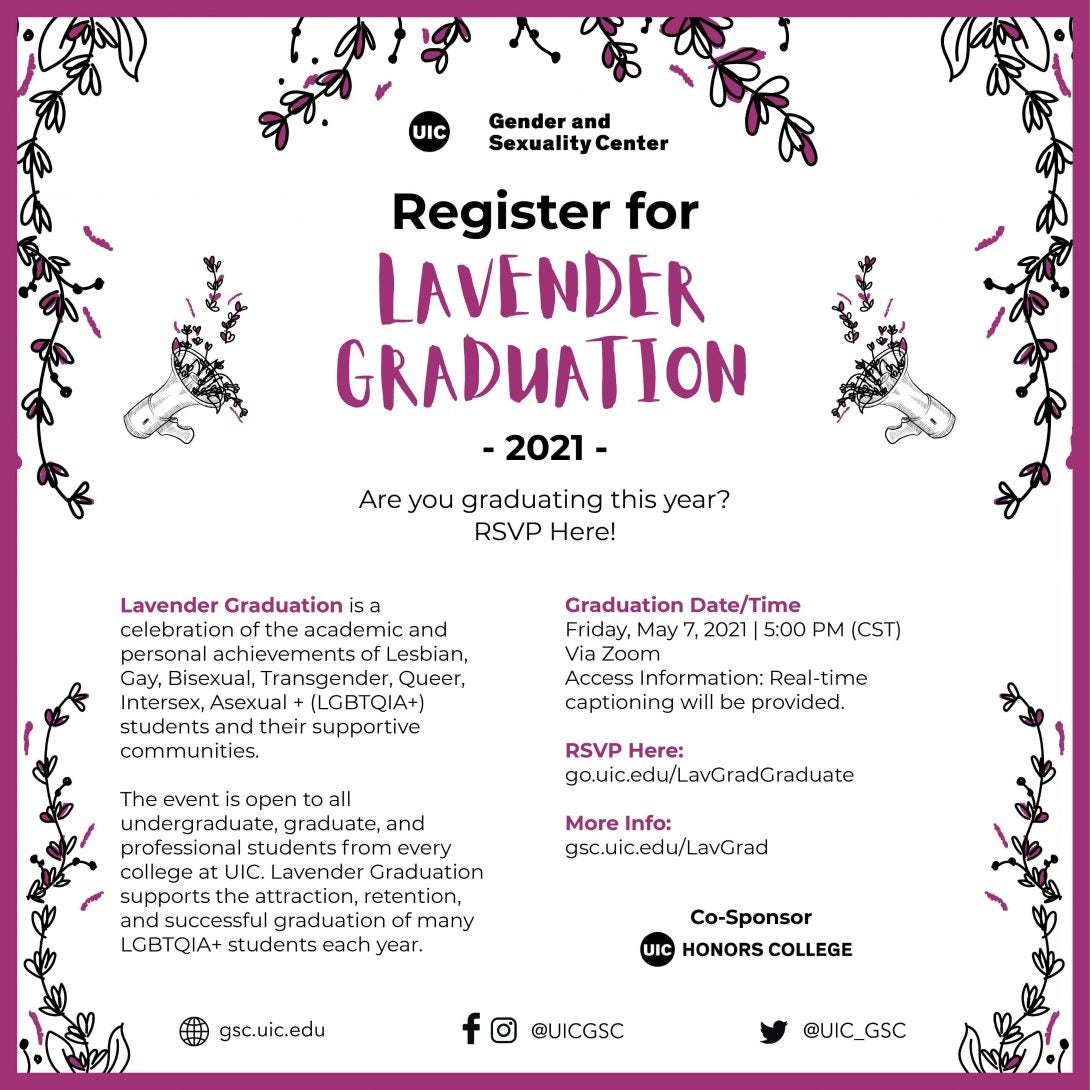 We are extremely excited to announce that the 2021 UIC Lavender Graduation keynote speakers were Janaé Bonsu and Ash Stephens! This was the first time that graduating UIC doctoral students have delivered the keynote address. Janaé and Ash are activist-scholars engaged in important campus and community work. We are honored to have had them at the 2021 Lavender Graduation.
The 2021 Lavender Graduation was held on Friday, May 7, 2021 at 5:00PM (CST). Because of COVID, this was held virtually via Zoom with real-time captioning (CART) provided.
Thank you, once again, to our co-sponsor, the UIC Honors College.
Why is Lavender Graduation important to you?
We asked our 2021 Lavender Graduates why Lavender Graduation is important to them. These are their responses.
Accomplishments

"It is very important for LGBTQ folk to celebrate their accomplishments big and small"

Community

"I love the idea of celebrating with other Queer people, especially because UIC was where I met so many people that helped me be more accepting of myself."

Support

"It is a chance for me to support my friend graduating with me this year and who identifies as Queer. I want to be a part of the community to be self-aware and to also support my loved ones."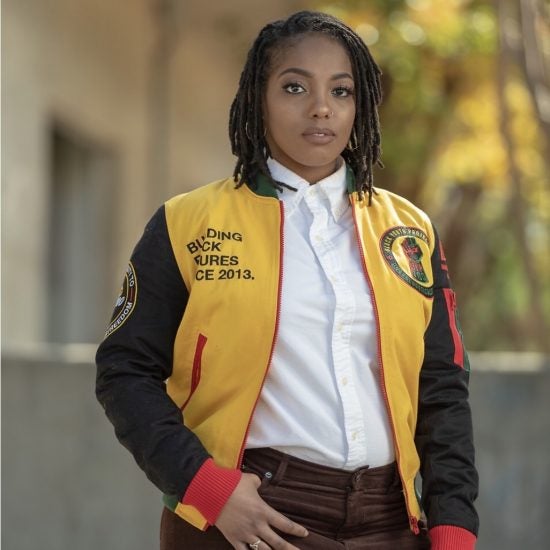 Janaé Bonsu; Keynote Speaker
Janaé Bonsu (She/Her) is an activist-scholar, licensed social worker, and PhD candidate at the University of Illinois-Chicago. Her research focuses on the intersection of interpersonal and institutional violence among Black people of marginalized genders, and the impact on survivors' safety-related empowerment. Bonsu's work is grounded in her personal experiences as a violence survivor and a commitment to an abolitionist praxis that does not rely on policing for safety. Bonsu's political home is with BYP100, a national member-based organization of 18 to 35-year-olds organizing through a Black Queer Feminist lens.
Janaé's Personal Website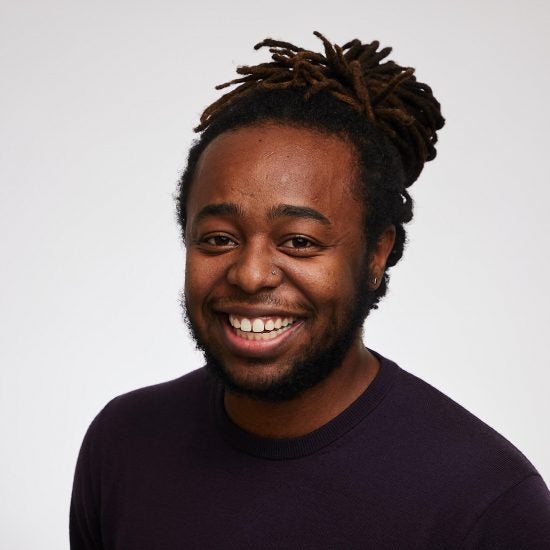 Ash Stephens; Keynote Speaker
Ash Stephens (He/They or Ash) is a writer, Trans activist-scholar, and PhD candidate at UIC in the Department of Criminology, Law and Justice with concentrations in Black Studies and Gender and Women's Studies. His dissertation research focuses on Trans, Gender Nonconforming, and Nonbinary people's experiences of policing and surveillance, as well as their strategies of resistance. Ash is also a member of the student-led Abolition@UIC collective, a board member of the Transformative Justice Law Project, and manager of policy & strategy at Transgender Law Center. Originally from Georgia, and finding a second home in Chicago, when he's not dreaming towards our abolitionist future he's usually "watching a Marvel movie or playing Nintendo Switch.
Ash Stephen's Twitter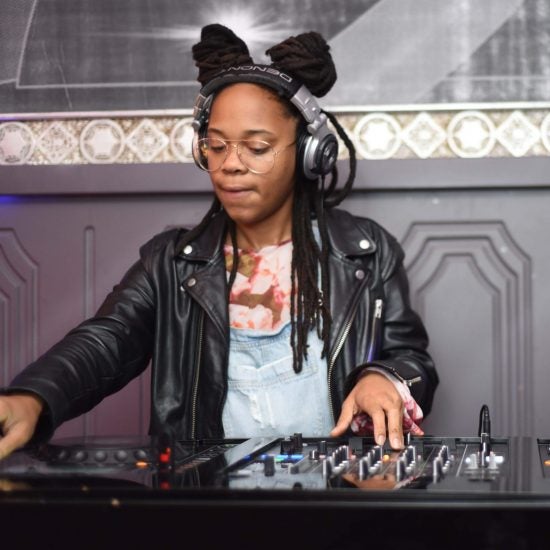 Rae Chardonnay; DJ
Rae Chardonnay (She/Her) is an arts manager and sound artist from Chicago. She is the Founder of Black Eutopia (est. 2013); a series of segmented programming intended to cultivate space for marginalized communities. She is also a co-founder of the award-winning Party Noire, a cultural hub centering Chicago's vibrant Black Queer creative communities and enterprises. Rae was recently noted as one of Chicago's Top 5 DJs by NPR, and Chicago's Best DJ by the Chicago Reader. She has circulated many spaces to share her musical styling techniques opening and curating for acts such as Janelle Monae, Jamila Woods, Georgia Anne Muldrow, Madison McFerrin, Megan Thee Stallion, OSHUN, Tiffany Gouche, CeCe Peniston, J Rocc, Just Blaze, Little Dragon, Big Freedia and many others.
Rae's Personal Website