All-Gender Restrooms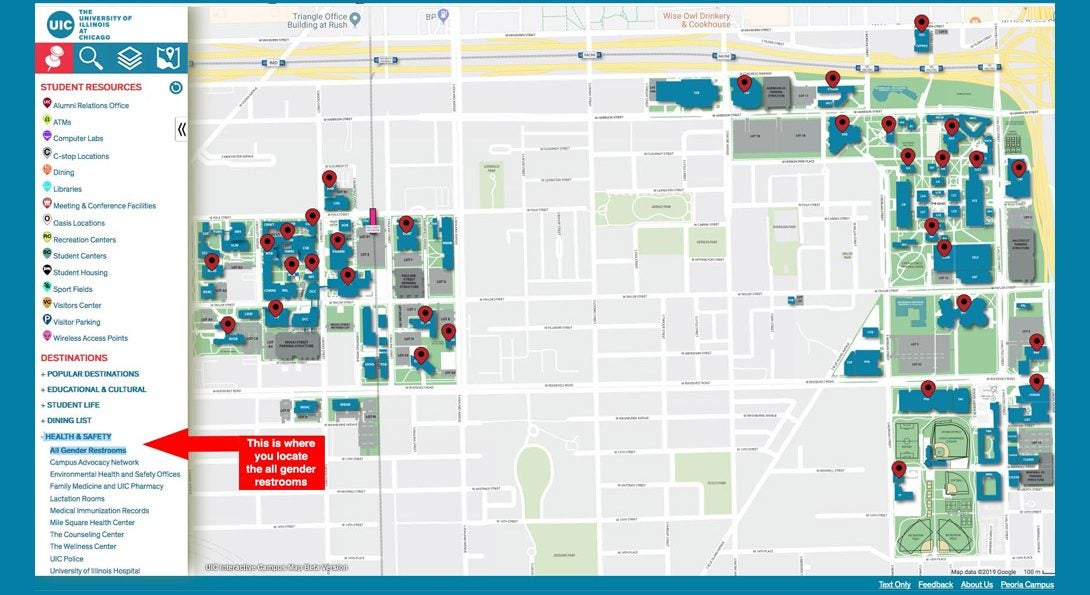 Public Health Issue
For transgender and gender non-conforming people using public bathrooms can be a source of stress and anxiety because of very real psychological and physical safety concerns. People whose appearance does not conform to what is commonly expected for men or women experience stares, questions, comments, verbal harassment, and physical violence when they try to use public bathrooms. Due to these possibilities, transgender and gender non-conforming people sometimes avoid using public bathrooms altogether, which has the potential for health complications, such as dehydration, urinary tract infections, kidney infections, and other kidney problems.
As part of our efforts to provide a safer and more inclusive campus, the GSC provides recommendations and consulting related to all-gender bathrooms.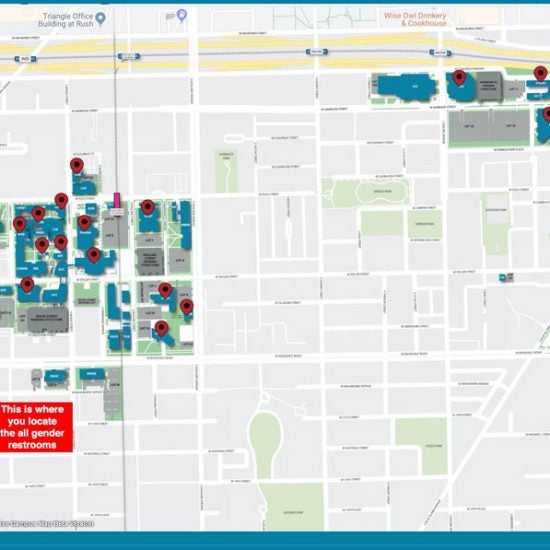 All-Gender Signs
All-Gender signs are available for the UIC campus. To begin the process to replace signage on a single stall gendered bathroom, fill out a standard service request through FM Web indicating the building and room number and that you'd like an All-Gender sign. Location of the bathroom determines whether or not this will be a billable request.
Begin a Signage Request
East Campus Single-Stall All-Gender Restrooms
Architecture and Design Studios:
• Building Basement, room B531
Art and Exhibition Hall:
• 1st floor, rooms 1226 and 1228
Behavioral Sciences Building (BSB):
• 1st floor, west side near Lot 1A (south exit door) Room 1004, next to men's bathroom
• 2nd floor, multi-stall, by the elevators, Room 2003
Burnham Hall:
• 2nd floor, room 214 and 216
Daley Library:
• 2nd floor, room 2343, near the south end of the building
Douglas Hall (DH):
• 1st floor, room 163, next to women's restroom
Physical Education Building (PEB):
• 1 restroom, building basement, room B86C, by the dock
• 2 restrooms on the second floor west side of PEB by the small pool spectator area
• 3 restrooms on the pool decks (1 on the small pool deck and 2 on the large pool deck)
• 4 restrooms at the stadium (2 in the suite and 2 on the concourse)
• 1 private restroom at the NCAA building
• 2 private bathrooms in the Flames Center (Sports Medicine Clinic)
Roosevelt Road Building:
• 2nd floor, room 298C
Science & Engineering Laboratory East:
• 2nd floor, 2112A and 2212B
• 3rd floor, 3112A and 3112B
Science & Engineering Laboratory West:
• 2nd floor, 2003 and 2006
• 3rd floor, 3002A and 3002B
Stevenson Hall (SH):
• 2nd floor, room 204A, across from women's restroom and near the elevator
Science & Engineering south:
• 3rd floor, room 3592
Student Recreation Facility:
• 1st floor, rooms 173A and 173B
Student Recreation Facility (SRF):
• 1st floor, across from women's locker room
Taylor Street Building:
• 3rd floor, room 316
UIC Forum:
• 1st floor, southwest side next to women's bathroom; 2nd floor, west and northwest sides
University Hall (UH):
• 4th floor, southwest corner near Room 430
• 11th floor, southeast corner across Room 1159
UIC Police Station:
• 1st floor: room 145
UIC Student Center East Tower (SCE):
• 8th floor, Room 802 and 803
Women's Leadership Resource Center (WLRC) / Campus Advocacy Network (CAN):
• 3rd floor, Taylor Street Building, 1101 West Taylor Street
West Campus Single-Stall All-Gender Restrooms
*Handicap Accessible
Applied Health Sciences Building (AHSB):
• Building Basement, roomB43
• 2nd floor, room 243
• 5th floor, room 510A
College of Medicine East Tower (CMET):
• 2nd floor, room 273
• 10th floor, room 1011
• 12 floor, room 1202
• 13 floor, room 1302
• 14th floor, room 1402
College of Nursing-Chicago Campus:
• 5th floor, room 502
• 7th floor, room 702
• 9th floor, room 902
• 11th floor, room 1102
College of Pharmacy:
• Building Basement, room B27
Center for Structural Biology:
• 1st floor, room 104 and 106
Disability, Health and Social Policy (DHSP) Building:
• 1st floor, room 104
• 2nd floor, room 229 and Lactation Area
• 4th floor, room 429
• 5th floor, room 529
• 7th floor, room 729
**DHSP signs use words instead of images
Eye and Ear Infirmary:
• 3rd floor, rooms 3150 and 3179
Human Resources Building:
• 4th floor, room 410
Library of the Health and Sciences:
• 1st floor, room 127
Medical Center Administration Building:
• 1st floor, room 141
Medical Sciences Building:
• 3rd floor, rooms E371 and E375
Neuropsychiatric Institute:
• 1st floor, rooms 121 and 122
• 2nd floor, 220A and 220B
School of Public Health and Psychiatric Institute:
• 1st floor, room 109D
• 3rd floor, room 315WA and 315WB
• 6th floor, room 660 and 680
• 7th floor, room 760
• 8th floor, room 860
• 9th floor, room 960
• 10th floor, room 1060
• 11th floor, room 1160
University of Illinois Hospital:
• 2nd floor, room 2143