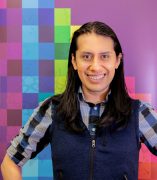 Moisés Villada
Associate Director
Pronouns: He/Him/His
Contact
Building & Room:
1180 BSB
Address:
1007 W. Harrison St.
Office Phone:
Email:
About
Moisés Villada has been working at the GSC since 2007. He has a long history of working with Lesbian, Gay, Bisexual, Transgender, Queer, Questioning, Intersex, and Asexual + (LGBTQIA+) communities and organizations in the city of Chicago including About Face Theater, Association of Latinos/as/x Motivating Action (ALMA), Chicago History Museum, Illinois Safe Schools Alliance, Entre Familia: PFLAG En Español, and Roosevelt University.
He enjoys using his dynamic facilitation, communication, and outreach skills to amplify the experiences of people's multiple, intersecting identities to create visibility and empowerment. He is especially passionate about mentoring Queer youth and preserving the histories of LGBTQIA+ Latinxs.