GSC Spring 2022 Virtual Exhibition: "Envisioning Ourselves as Creator"
Welcome to the Gender and Sexuality Center's (GSC) Envisioning Ourselves as Creator online exhibition!
This exhibition highlights five original poems from Iana Amiscaray and six featured artworks from three artists: Shaunie Berry, Henry Hung Chang, and Symphonnii Smith-Kennedy. The birth of this exhibition began as an exploratory project about Queer & Trans culture in the arts when Iana was working with the GSC over the summer of 2021 as a graduate assistant. During her time with the GSC, she reconnected with her own creative spirit and intersecting identities.
The exhibition is intended to be explored at your own pace. Each art piece inspiring each poem. At the end, there are some reflective questions for you to meditate on. You can also learn more about our featured artists and support their work.
I hope the poems and artwork inspire you to create and, most importantly, remind you that you are a beautiful creation.
Moisés Villada
Co-Curator
GSC Associate Director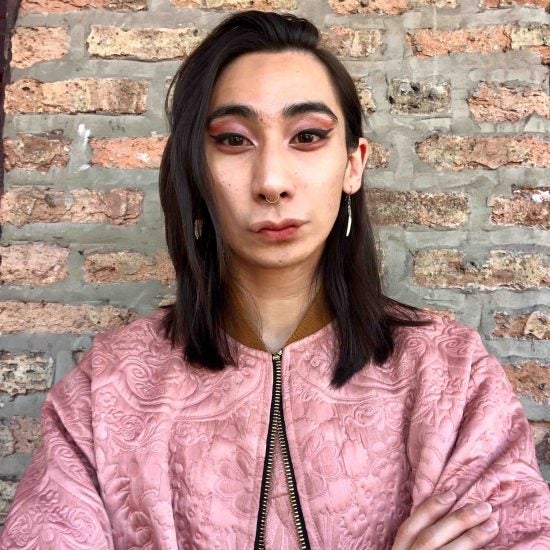 Iana Amiscaray is a second-generation Asian American poet and multi-disciplinary creative whose work deals mainly with Queerness, spirituality, and her cultural roots. Ever since middle school, she has gravitated toward poetry as her main outlet for creative expression and she has found joy and purpose in writing as a personal, spiritual practice. Iana is currently completing her master's degree in Education Policy and Leadership, and upon graduating, plans to dedicate her service to creating positive and sustainable change with and for LGBTQ+ communities in Chicago and beyond. Iana is a Chicago native and now lives back in her home neighborhood of Rogers Park. She is a Sagittarius sun, Taurus Moon, and Cancer rising who is always eager to connect with others on all things astrology.
Maraming salamat sa mga Babaylan ng nakaraan, mga ninuno ko. Thank you to the Babaylan of the past, my ancestors. Envisioning Ourselves as Creator is a series of poems and visual art pieces that depicts two journeys; the first journey about my transition from Christianity to a pre-colonial spirituality rooted in cultural inheritance, and the second journey about remembering the transformative and creative power we hold (individually and collectively) as Queer people.

Queerness and spirituality have always been intertwined personal experiences for me—I think it comes back to the conflation of Queerness with sinfulness and the ways that it is demonized in popular culture. To defend myself from that constant, oppressive messaging, I sought out the divinity in Queerness. That's when I began to learn about the Babaylan (pre-colonial Filipinx/a/o shamans, healers and leaders) and heeded a calling that showed me that my Transness is an honor, an invitation toward godliness.